Our organization relies on financial support and ticket donations from the community – individuals, corporations, foundations and service clubs. All donations are sincerely appreciated and allow us to focus on providing enriching experiences for deserving children and youth in our community.
We build self-esteem, inspire dreams, enrich family connections and strengthen community ties.
There are many ways to get involved:
Donate Money
Our offices operate with small, but mighty, teams. We wouldn't be able to do what we do without generous donations by individuals and corporations!
There are multiple ways to make a financial donation: Cash, cheque, via your credit card, host a third-party fundraiser or talk to us about Planned Giving.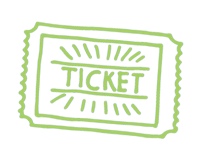 Donate Tickets
Want to fire a child's imagination and make your community a better place? It's easy. Just donate your unused tickets to Kids Up Front!
We turn the tickets you can't use into enriching experiences for children and youth all across your city. Our amazing program means empty seats become unforgettable adventures.
Donate Time
Kids Up Front has rewarding opportunities available for anyone who wants to get involved and support our charity through volunteering.
We are always in need of volunteers to help run events, fundraisers, sell 50-50, and more! If you love being in the center of the action, contact us today!